The online market is vast and full of opportunity. Every day millions of potential consumers browse the internet, and to marketers these people are sales just waiting to happen, and Facebook is quite possibly the largest congregation of possible consumers the world has ever known. It's really no surprise that for businesses looking to invest their time and money in marketing campaigns Facebook is one of the most promising options they turn to.
The idea is to turn the millions of people browsing Facebook into potential customers by convincing them to "Like" a page. In recent years especially there has been a wide focus on getting "Likes" on your Facebook page if you are a business looking to advertise. If somebody "Likes" your Facebook page that means they will see more of your product and advertise it to their friends, so ideally you want to have as many Facebook "Likes" as you can possibly get, right?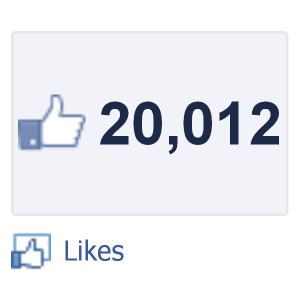 Not Quite. Some people, believing that more "Likes" means more business decide to instead of reaching out to their target audience opt to purchase Facebook "Likes" in order to make their business look more popular without actually having to take all the time and effort to market their Facebook to a target audience.
Here's 5 Good Reasons not to buy "Facebook Likes"
1.        The problem with this is that buying Facebook "Likes" usually means buying thousands of likes from fake Facebook profiles. While on one hand this will make your business page look more popular, it won't drive any actual traffic to your store. You may as well be buying monopoly money to make your wallet look bigger.
2.     Having hundreds of fake people "Liking" your Facebook page is actually counter-productive to marketing. Facebook can tell when your fans are real fans by calculating the amount of likes you have in comparison to the amount of activity that is on your page. If the fans of your page aren't commenting, liking, or sharing the posts you make on your page, that tells Facebook that you're not all that popular with your fan base and ensures that you won't be seen by real customers who are really interested in your product or service.
3.     Having real people "Like" your page means your page will be advertised to that real person's real friend, who might also be interested in your product, which means you'll be getting more people who are legitimately interested in your product seeing your page.
4.      Not only does a "Like" from a real customer have the potential to turn into an actual physical sale, but Facebook takes the initiative and advertises your page to his or her friends, which means more real "Likes", more real sales, and actual palpable revenue coming in to your business, which is the point of having a Facebook page in the first place, isn't it?
5.      Last but not least, you get the satisfaction of knowing that every single one of your Facebook fans is an actual customer who likes your product, and you get the satisfaction of not having to pay money for the bragging rights of having over 1,000+ fans. And with all the problems that come with fake or illegitimate Facebook "Likes" it's actually more damaging to buy Facebook "Likes" than it is helpful.
What you should do instead.
Focus your marketing on people who will actually be interested in your page. Because the more people that see your page that have no interest in your product, the less people see your page that do, and the whole point of Facebook marketing is to convert those Facebook likes into actual sales and revenue.