These days, many tech-savvy business owners are faced with the question: "should I just create my own website?" Building a website using a template can make the process much more straightforward, but what are the pros/cons of each approach?
Building your own website
First things first, what hosting template should you use?   With so many options so many different features, the process can be seem intimidating at first.  Some of the more popular do-it-yourself websites are Wix, Squarespace, and Weebly.  If you are looking for a website that is sleek and easy to use (and you aren't looking to set up a huge online store), Weebly.com is the clear winner.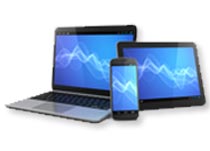 Pros:
– Weebly uses an easy drag-and-drop interface that anybody with moderate technical know-how can handle.
– Priced around $84/year, which is much less expensive than hiring a professional web design firm.
– You'll have a great feeling of accomplishment once you finish building your first website!
Cons:
– Once you commit to a template, there is no way to add new features or significantly improve your website.  If business picks up and you decide to improve your website, you will have to start with a web design company from scratch.
– Templates are generic and unable to match the professionalism or personality of a custom designed website.
– The "real cost" is much, much higher when you factor in all of those hours you spent learning.  Also, customers are often willing to pay less if your website is lacking.  Think of your website as your physical place of business; customers are willing to pay more if the atmosphere is more professional.
Hiring a professional web designer
Anybody who owns their own business realizes that time is money.  Every hour you spend tinkering with the logo or changing the color scheme is money you could be earning (believe me, those hours add up quickly!).  When you factor in this opportunity cost, the real price of your do-it-yourself website becomes much more expensive.
Pros:
– Your website will be more attractive, professional, and easy to use.  This will attract customers who may have otherwise been turned off by a generic or unprofessional website.
– While custom designed websites cost more, it's been proven that an attractive website often allows you to charge customers more.  Also, don't forget to factor in the hours you save and increased customer traffic for years to come!
– It's very easy (and inexpensive) for web developers to improve or add new features to a custom website.
Cons:
– Expensive, and the full price is usually paid within 2 months (where as template websites are indefinitely month-to-month).
– Most importantly, you need to find a web design firm you trust.  Always make sure they communicate a clear understanding of what you are looking for before you give them any sort of payment!
Conclusion
If your budget is less than $500, building your own website is definitely a good option.  Best of all, if you hit a roadblock we will be happy to help!  Call us at 858.480.1365 for excellent hourly tech support.
Otherwise, we would highly recommend going with a professional web designer.  Always be sure to compare quotes and check out their portfolio!
Superior Web Solutions offers unrivaled value and customer service, click here for an instant web design quote, or call us @ 858.480.1365 today!