– We now offer extremely affordable, professional websites for new businesses with a budget!
– Introducing:  The $469 Theme Package
– This package is perfect for those who realize they need an online presence for their business, but do not have $600+ to invest in a full-featured website at the moment.
Pros: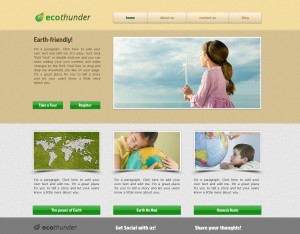 – A theme, also known as a template, is a website that has a pre-defined layout and color styling.
– Most themes are attractive, professional, and inexpensive.
– This allows us to reduce the design time (and cost!) to a fraction of our standard pricing.
Cons:
– There is a limited selection of themes and layouts to choose from.
– Themes do not offer advanced customization and you are locked into the general layout of the theme you select.
– If your budget increases and decide you want to build a custom designed professional website in the future, you will have to start over with a new website.
– If you are looking for a website with an impressive custom design, blog, or other advanced features:  Click here to get an instant pricing estimate!
1)  Domain & Hosting
 First things first- you'll need a domain and hosting.  The hosting costs between $6/month and $16/month, depending on your website requirements.
– If you don't already have a domain we can help you find the perfect one for you (www.YourBusiness.com).
– Most web design firms will sell you their own hosting and domain solutions in order to triple the price and trap you into doing business with them.
–  We set you up directly with the hosting company, so you get a substantial discount and have complete freedom to change web developers!
2)  Pick your Theme
 First, we will send you a few theme layouts to look over.  Once we narrow it down to your top picks, we will help you select the best fit for your business.
"What if I want to update my website content, or improve the look of the website after it's done?"
We would be happy to customize or update any aspect of your website (within the limits of the theme) for our competitive rate of $50/hour.  If you want to dramatically change the look of the website, we will discuss your options for building a premium custom professional website.
3)  Send Over Your Content
 We'll be needing your "About Us", "Services", and "Contact" information.
– Send over everything you've got!
– Any images, text, pricing, or ideas will be very helpful.
– We offer standard formatting and spell-check services with this package.
– Request a quote for premium copywriting and content formatting.
 Business Logo – Graphics Design
– This package assumes you have a company logo.  If you do not have a logo, we would be happy to design one for you for our standard hourly rate.
4)  Professional Graphics & Images
 The best way to improve a website is to include some attractive, relevant images or slideshows.
– Let us know what kind of images you would like on your website, and we will find some professional stock images.
– These images typically cost between $10-$25 each.
– If your personal images aren't high-resolution, we highly recommend purchasing stock photography for your website.
5)  Website is Complete
 You'll have a chance to look over everything before your website goes live.
– Let us know of any changes you would like, we've included 1 hour of final changes in this package.
6)  Additional Details
– This discount package is intended for businesses who need a basic website to increase exposure.
– Generally, this package will include 2-4 web pages of text content.
– Looking for a website with an attractive custom design, blog, or other features?  Click here to get an instant pricing estimate!
– Additional features can be added at any time for our standard rate of $50/hour.
– Call today to discuss your options!